Description

Simple Comments is the #1 most powerful WordPress spambot and hackbot security plugin that will protect your login, registration, comment, contact, and other forms. Forms are the entry point to hijack and gain access to your website. Don't leave your forms unprotected.
Since the public launch of Simple Comments in 2013, not a single spambot or hackbot has been able to bypass the security provided by Simple Comments. No other plugin, or spam service, can make that claim.
Simple Comments Benefits:
WordPress login and comment hackbot and spambot form protection.
WooCommerce login and registration hackbot and spambot form protection.
Spambots are blocked before they fill up your spam folder.
Hackbots and botnets are blocked before they hack into your WordPress blog, and before they can register fake accounts.
Dramatically reduces database queries, since it blocks spambots and hackbots rather than writing their data to the database. This can give your site a boost in speed, and save you money depending on your hosting plan.
SEO hacking is blocked. Link injection is rendered harmless, because comment links are turned into plain text automatically.
Cross site scripting (XSS) attacks are rendered harmless in comments.
Redirection, aka hijacking, scripts cannot be used in comments.
Cross site request forgery (CSRF) is rendered harmless in comments.
Brute Force attacks, on login forms, are stopped on the first try, not after several attempts to login, but authorized users are never locked out.
Prevents XML-RPC pingback service DDOS attacks.
The option to disable all XML-RPC services to prevent DDOS attacks.
What Simple Comments Can Do For You
First, you won't need to sort through spam anymore, which means you can use your blog for what is was designed for, blogging, e-commerce, or whatever innovative application you've built WordPress into. Second, you'll sleep better knowing you won't be waking up to a flood of spam, or a hacked blog.
If you like the idea of zero spam, then you'll love Simple Comments.
If you have ever used Akismet you know it allows spam to flood your blog until you mark all the spam as spam, and then delete it from the spam folder, a very tedious process. Akismet needs to be taught what is spam on your blog. After all that work, spambots change tactics, and Akismet floods your blog with spam again, and has to learn the new type of spam. All the while it blocks legitimate comments until you mark them as not spam. This can be more trouble than it's worth. Simple Comments works 100% of the time, which is something Akismet cannot claim.
Simple Comments uses anonymous authentication, a technical phrase we created to describe how Simple Comments works. The security built into Simple Comments blocks 100% of automated spam, while always allowing legitimate comments to be posted on your blog, without the need to approve it. Simple Comments takes all the work out of blocking spambots and hackbots. There is another benefit to blocking attackers before they reach your blog. Since spam isn't stored in your database, it frees up server resources to make your blog run faster, which can be a big cost savings for highly trafficked blogs, and it is much needed relief for low resource small blogs on shared web hosting accounts.
Another benefit is cost.
Akismet costs $60 per year for 1 blog, and 80,000 checks.
Simple Comments costs $29 per year for 3 blogs, and unlimited checks. Oh, and you don't need to teach Simple Comments what spam is, we've already taken care of that for you. There are also larger activation packages that decrease your costs even further.
Why haven't we compared Simple Comments to any of the other thousands of free spam blocking plugins on wordpress.org? Because none of those plugins is even mildly effective, and they block more legitimate comments than Akismet.
From the moment Simple Comments is activated you will never have to worry about spambots or hackbots again. It's not magic, it's solid security that cannot be found in any other plugin or service for WordPress. Read a few of the product Reviews from our customers to see how Simple Comments has impacted them.
The screenshot of the comment form below shows Simple Comments providing security in the background, so visitors will not have to do anything except leave a comment. No matter what form is being protected, Simple Comments does its work invisibly.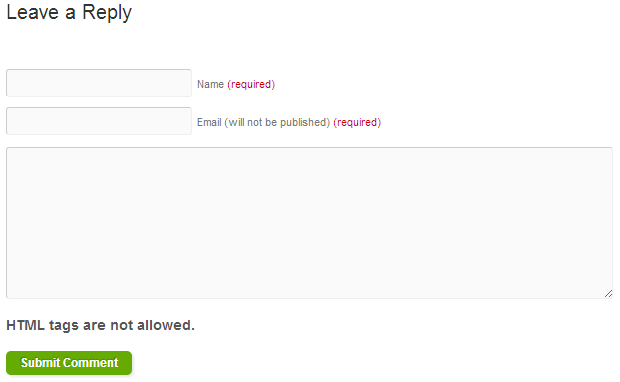 Simple Comments has been tested against thousands of other spam plugins, and not a single one could block spambots without identifying some real comments as spam, not even Akismet. Simple Comments is the only plugin that never blocks real comments, only spam. We help customers every day stop floods of spam instantly. Many of our customers were previously using Akismet, plus one or two other spam plugins, before they found all they needed was Simple Comments.
Unlike other plugins and services, Simple Comments doesn't fill up your spam folder with comment spam, it blocks spam, so you don't have to review it, unless you want to. Simple Comments gives you the choice to review spam, or just let Simple Comments block it. Rest assured, Simple Comments will never block real comments.
Hackbots are a real and constant threat for any website. Simple Comments will also block hackbots from taking over your blog, and ruining your reputation, or business.
Protecting blogs from spammers and hackers isn't just about giving you less to worry about, or saving a ton of time everyday, it's also about preventing spambots and hackbots from taking over your personal blog or business blog to ruin your credibility, reputation, and search engine optimization you've worked so hard for.
Protected Forms
Simple Comments currently protects the following forms:
WordPress Comment form (Spambot protection)

Gravity Forms (Spambot protection)
Contact Form 7 and above (Spambot protection)
WordPress login form (Hackbot protection)
WordPress user registration form (Hackbot protection)
WooCommerce Product Review form (Spambot protection)
WooCommerce Product Enquiry Form (Spambot protection)
WooCommerce 2.1 and above Login Form (Hackbot protection is only available from Simple Comments)
WooCommerce 2.1 and above Registration Form (Spambot protection is only available from Simple Comments)
Block Unwanted Commenters or Manual Spammers
Sometimes guests overstay their welcome, but refuse to leave. Commenters can be blocked using the Simple Comments block list.

Simple Comments Cleans Up Your Unwanted Comment Trash
Although Simple Comments won't send any spam to your spam folder, unless you choose that option, but don't worry about cleaning up, Simple Comments will do it for you.

Comment Backlinks
Spammers leave links in their comments that damage the search engine optimization of your blog. Those backlinks can cause your blog to lose page ranking and other metrics. Simple Comments provides the option to strip out the HTML from comments so those backlinks are transformed from a damaging link to plain text.
High Traffic Blogs
Simple Comments was designed to scale, so it can handle the largest spam and hack attacks thrown at it without even breaking a sweat. The plugin protects blogs getting over 35 million visitors per month, and more than tens of thousands of spam, and hack attempts, per day.
How Does Licensing Work?
Each license activation will activate updates, and the Simple Comments service, on each blog it is installed on. If you buy the 3 activation package, you get 1 license key to activate Simple Comments on 3 different blogs.
Simple Comments Affiliate Program
Simple Comments provides two opportunities:
We have an affiliate program that allows web developers and web designers to receive a 30% commission on every sale of Simple Comments, if a customer uses their affiliate link to purchase Simple Comments on toddlahman.com. We only accept customers who have purchased Simple Comments into our affiliate program. After purchasing Simple Comments there will be a link to sign up as an affiliate in your My Account dashboard.
We sell Simple Comments in multi-activation packages to make each individual copy relatively cheap, so they can be resold to clients if desired. We will only provide support to the account/license owner however.
Comments in Your Language
Simple Comments is fully localized to provide automatic translation into your language.
Installation and Upgrades
Once installed, Simple Comments can be updated automatically just like any other WordPress plugin from your WordPress dashboard.
If you have never installed a plugin from a zip file before, we will be happy to provide instructions, or to install the plugin for you. Your satisfaction, and opinion of our products and service, are important to us. If you want to get a head start, you can read our how to install a plugin post.

Requirements
WordPress 3.8 or later
Single site or Multisite WordPress installation
PHP version 5.6 or above, or PHP version 7.x